March 24, 2011
Putting the Patient back in Patient-Centered Care Webinar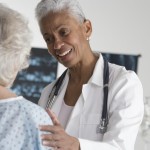 The Agency for Healthcare Research and Quality is sponsoring a webinar on March 30 from 1:00 to 3:30 p.m. EST focusing on the use of healthcare information technologies to improve patient involvement in their own care management.  You can read more about the qualifications and backgrounds of the presenters and register here.    This Webinar is for healthcare professionals including physicians and nurses, so those of you who work at on-site clinics in these roles may find the webinar of benefit.
In particular, information will be presented on a "tool designed to assist diabetic patients manage their condition via an online tool."   Two other presentations will focus on the use of PHRs for patients who have mental illness and chronic conditions, and the management of medications in older adults using a PHR.
The use of PHRs, social media, etc. are being widely studied to better understand the value of their use in managing the health of patient populations (i.e. your employees and their dependents).  We expect to see great innovation in this area over the next couple of years.
Written by: Dorothea Taylor
Filed Under: Research
Trackback URL: http://onsiteclinics.org/2011/03/24/putting-the-patient-back-in-patient-centered-care-webinar/trackback/
Leave a reply