September 27, 2011
NASCAR, On-site Clinics, and Medicine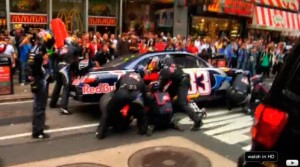 Forbes had a recent article that we should all read and re-read about one of the key innovators in medicine, Dr. Harlan Krumholz of Harvard, labeling him as one of the most powerful doctors "you never heard of."  We will pardon their misuse of the preposition at the end of their description, but we welcome their opening statement, "Medicine is flying blind."
The connection to NASCAR is real.  He once brought a NASCAR pit team into a heart catheterization lab to describe and demonstrate how saving seconds can win races.  This image of the Red Bull Racing Team is in Times Square demonstrating the speed in which they can service a car in one of the fastest paced cities in the nation.  This is just a few miles from top flight medical centers where they can only think to build bigger waiting rooms to accommodate longer wait times and patient peak loading.  From waiting rooms to heart attack victims to on-site clinics to health care cost, the principles that Dr. Krumholz espouses deserve to be front and center in every health care initiative.
This does not only apply to stripping seconds off a heart attack response but to all components of medical care as well.  How much time (and money and resource) is wasted when your employee waits for a test like an MRI in one of the local hospitals?  How much time is lost in between the complaint and the cure while your primary care team waits for a specialty referral or a report from an ancillary provider?
Dr. Krumholz showed that less than one-third of American hospitals were treating heart attack patients quickly enough.  He also discovered that some patients are recurrent and that they end up back in a hospital for the same problem within days of discharge.
Dr. Krumholz uses billing records and data bases to fish for trends, problems, issues and answers.  Most on-site clinic programs start with a claims analysis and then progress to a program that wraps around past utilization.   After the program starts, no one really focuses on claims and processes.  After reading this article and reflecting on Dr. Krumholz's approach, you might consider a claims analysis to be a regular exercise.
The article repeats the adage that "you can't manage it if you can't measure it," and it references many of the thought leaders in the work redesign process, most notably Toyota.  It is not hard to find a company as an example for the theme of "data-driven quality-improvement," but it is a challenge to address this concept with health care providers.
Now, if only Toyota had an on-site clinic — interesting to note, they do, and it is one of the best.  Matching the Toyota zeal for lean with the Krumholz approach to problem solving would be a real study in efficiency and effectiveness.
Leave a reply